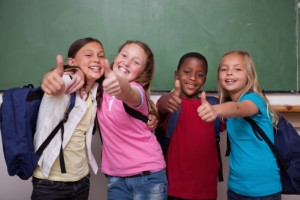 February is National Children's Dental Health Month, and there's never been a better time to take stock of your little one's oral health. Your child's smile is precious, and you work hard to make sure it stays healthy and strong. Problems with misalignment, however, can't be managed with at-home care and biannual trips to the dentist. When your little one's smile requires orthodontic treatment to correct crowding, gaps, or other alignment problems, trust the experienced doctors at Drake & Voto Family and Cosmetic Dentistry in Owasso, OK. We offer a comprehensive array of orthodontic services for children and adults of all ages, backed with years of experience and the most advanced technology in the dental industry today.
The Importance of Orthodontic Treatment
Over the last 20 years, advanced orthodontic materials and new diagnostic technology have made it possible to offer teeth-straightening treatment to children at an earlier age. Parents and oral healthcare professionals agree: earlier orthodontic intervention greatly reduces the likelihood that more extensive and costly treatments will be necessary later. In addition, straightening the teeth actually promotes a healthier smile; little pearly whites that are properly aligned are easier to clean and are therefore less susceptible to tooth decay.
Because we understand that visiting the dentist may be a little frightening for young children, we go the extra mile to make sure your kids feel completely comfortable and safe. Our gentle approach and generous patient amenities ensure that every visit is a happy one.
Schedule Your Consultation Today
At Drake & Voto Family and Cosmetic Dentistry, we believe that each and every patient that walks through our doors should feel comfortable and confident in their smile, no matter their age. We invite you to contact us today to schedule your child's orthodontic consultation with our doctors and our caring, compassionate team. We happily serve families from throughout Owasso, OK and the surrounding areas, including Claremore, Sperry, Collinsville, Skiatook, Tulsa, and more.