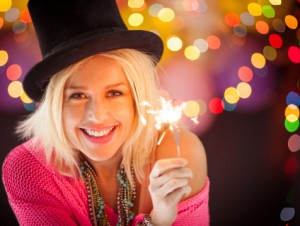 2014 is quickly coming to a close, and people from all over the world are gearing up to celebrate the New Year with promising resolutions to improve themselves and their lives. This year, make your resolutions count with cosmetic dentistry solutions from Drake & Voto Family and Cosmetic Dentistry in Owasso, OK. Dr. Gene Drake and Dr. Jayson Voto specialize in helping men and women just like you find confidence in their appearance with cosmetic dental solutions, including porcelain veneers.
How Can Porcelain Veneers Help Me?
Porcelain veneers are customized, ultra-thin layers of dental porcelain that are bonded securely to the front surfaces of your teeth. They are highly stain-resistant and durable, and their natural look promotes a beautiful smile you can feel proud to show off to the world. Porcelain veneers even reflect light in the same way that tooth enamel does, so you can rest assured in the knowledge that your smile looks radiantly natural. Veneers are capable of correcting a wide variety of common cosmetic flaws, including:
Deep staining that is resistant to professional teeth whitening treatments
Chips and cracks in enamel
Uneven spacing or gaps between teeth
Teeth that appear too short or stubby
Teeth that are misshapen or too small in relation to other teeth
Crowding and moderate misalignment
We truly can't wait to welcome you to our practice and to show you how much of a difference a simple solution like porcelain veneers can make for you! Welcoming 2015 with a Smile A consultation with our friendly, experienced doctors and caring staff will help to determine your candidacy for porcelain veneers and other cosmetic dentistry solutions. Most people who are in good oral health are excellent candidates for these transformative and affordable treatments. Contact us today to schedule your appointment with Drs. Drake and Voto, and discover the difference that our expertise and cutting-edge technology can make in your smile and in your sense of self-confidence. Our state-of-the-art dental practice in Owasso, OK warmly welcomes patients from throughout the surrounding areas, including Sperry, Collinsville, Claremore, Tulsa, Skiatook, and more.