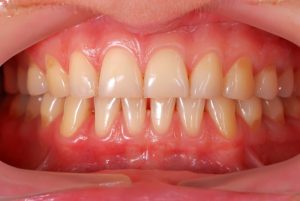 We may not think about it, but gums play a huge role in our oral health. Not only do they hold our teeth in place, but they protect us from bacteria on a regular basis. This makes is incredibly important that we treat out gums right, both with the right oral care and the best foods to promote its bodily duties.
Fortunately, your dentist has a list of the best foods for gum health and how you can incorporate them into your meals. Consider this a good day for your gums and your oral health as we explore the list.
Think Produce When Producing the Best Results
The next time you take a trip to the produce section at your local grocery store, keep these foods and their benefits in mind:
Onions – This layered vegetable contains microbial properties that target bacteria most commonly found in gum disease as well as cavities. It essentially neutralizes bacteria on contact, so definitely try to incorporate it into your next meal. Since it doesn't matter which onion you use, it can be eaten in everything from burgers and stir fries to salads, soups, stews, and chilis.
Leafy Greens – Dark leafy greens like kale and spinach are great for several reasons. While being rich in vitamins and minerals, the vitamin to focus on regarding gum health is vitamin C. This boosts red blood cell production and reduces inflammation, both of which aid in the battle against gum irritation and disease. These leafy greens are perfect to add to salads, sandwiches, soups, or cooked and added as a side dish.
Peppers and Citrus Fruits – Like leafy greens, these foods are high in vitamin C. it doesn't matter which color pepper you buy, but fruits you'll want to look out for include oranges, kiwis pineapples, and strawberries. Top your next yogurt snack with these fruits or include them in a smoothie for easy consumption.
Celery, Carrots, and Apples – The benefits these foods provide are two-fold. Not only do they tend to get stuck in between your teeth and keep your mouth fresh between brushings, their high fiber content means it will take longer to chew them, causing your mouth to generate more saliva. Saliva flushes bacteria out of the mouth, particularly well along the gumline. Try replacing your next sugary or starchy snack during your week to give your gums a well-deserved break.
Shiitake Mushrooms – This mushroom contains an antibacterial called lentinan that fights plaque-building bacteria in the mouth. This type of bacteria likes to hide in between your teeth and along the gumline, so try adding it to your next sauté or vegetable dish to reduce irritation in your gums.
Remember to Go Green. Green Tea That Is.
Thanks to its rich, antioxidant, chemical compounds called catechins, green tea helps to stave off inflammation in the body. Catechins specifically target gum inflammation caused by a type of bacteria responsible for gum disease, so next time you're thinking of pouring another cup of coffee, consider green tea instead. Green tea also contains caffeine, so you don't have to lose your buzz.
The Dairy to Marry for Healthy Gums
Not only are dairy products like cheese high in calcium which helps strengthen bone, it's also proven to be great for your gums. Because of a protein called casein, eating dairy products like milk, cheese, and yogurt can help neutralize acids produced by bacteria in your mouth. Acids can damage your tooth enamel and gum tissue, so a healthy amount of dairy in your diet will help reduce this acidity.
It's never too late to include foods that benefit your oral health. Ask your dentist what their favorite foods are for maintaing healthy gums!
About the Author
Dr. Jayson Voto, DDS, earned his bachelor of science in zoology from the University of Oklahoma followed by his dental degree at the University of Oklahoma College of Dentistry. He is a member of many dental associations, including the Academy of General Dentistry, the ADA, and the American Orthodontic Society. To learn more about his practice, contact him at (918) 272-5381 or visit his website.