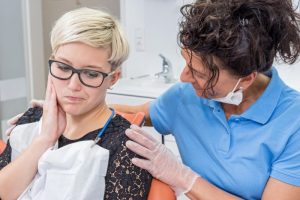 A dental emergency doesn't happen when it's most convenient for you. Unfortunately, even during the holidays, you can fall victim to a nagging toothache, cracked enamel, or even a serious infection. While it might not be the best time to deal with such a problem, it's best that you know what to do if a dental emergency occurs over the holidays. Let your local dentist explain how to take care of certain situations at home and when you should seek immediate attention for your dental problem.
How to Know if You Can Treat Your Emergency at Home?
Knowing if your dental emergency is actually a crisis situation isn't always easy but for the majority of situations, you can treat your initial symptoms at home while waiting to see your dentist. No matter the type of problem, it's always best to inform your dental team and let them decide whether you should get in right away or if it can wait.
A few of the more minor emergencies you can treat at home include:
Toothache: Rinsing out your mouth and taking a pain reliever can help, but make sure you avoid aspirin, as it can seriously burn and damage your gums if you rub it on your soft tissue.
Soft Tissue Laceration: A cut on your lips, cheeks, tongue, or gums should be treated with warm water and a cold compress to reduce swelling.
Filling Falls Out: Most local drug stores carry filling replacement kits, so don't panic. Simply follow the instructions and allow it to temporarily fix your tooth until you can see your dentist.
Crown Comes Off: Just like drug stores sell filling kits, they also sell special cement to help you reattach a crown that has fallen off.
When Should You Seek Immediate Attention?
Fortunately, most dental and mouth-related injuries can be quickly and easily treated at home, but there are times when a trip to the emergency room or an immediate visit to your dentist's office is vital. Apart from a knocked-out tooth that requires you to see your dentist within an hour in order to save the tooth, another serious dental problem that can occur is a severe infection or abscess.
You can expect immense pain to occur should you have an abscessed tooth as well as swelling around your teeth, gums, and jawline. This type of infection is serious and can lead to additional health problems if left untreated. If this happens to you, schedule an appointment with your dentist but get to an emergency room as soon as possible.
The holidays should be a time for fun and excitement, but if a dental emergency occurs and takes you away from those you love, make sure you're prepared to handle the situation at home. You'll feel more confident and comfortable while waiting to see a professional.
About the Author
Dr. Jayson Voto completed his undergraduate studies at the University of Oklahoma before going on to study dentistry at the university's College of Dentistry. Graduating in 2006, Dr. Voto later moved to Owasso and joined his current practice. Helping its residents achieve beautiful, healthy smiles, he and his team want to make sure everyone receives the care they need, especially when they need it most. Should a dental emergency arise while enjoying time with family and friends this holiday season, know that we can see you right away. Let us help you by contacting us at (918) 272-5381.