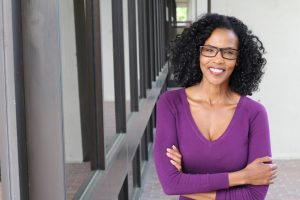 Living with one or more missing teeth is a daily struggle. Your diet and nutrition is affected because you can't properly chew your food. Your self-esteem and confidence is affected because you may feel self-conscious about talking or smiling in front of others. Did you know that it's also affecting your oral health? Without a tooth in place your bone will begin to deteriorate, and your remaining teeth will begin to shift. Dental implants may be the right solution for you, and Drake & Voto Family and Cosmetic Dentistry can help! Here are some of the benefits of dental implants in Owasso.
What is a Dental Implant?
A dental implant closely mimics your natural tooth by replacing your root with a biocompatible titanium post, and your tooth with a high quality porcelain crown. Your implant is surgically placed into your bone to restore your root, and this helps to keep your bone healthy and stimulated.
After the appropriate healing time, your porcelain crown takes the place of your tooth and will function just like your natural tooth did. You'll be able to eat, chew, talk and smile as you did before. There is no other replacement option that can offer all these benefits for your overall health.
What are the Benefits of Dental Implants?
Dental implants are a very reliable treatment, offering patients a 95% success rate. They're also very durable, and with excellent home care and regular dental check ups they can potentially last for a lifetime, making them a very cost effective investment in your oral health. Your implant will be custom designed to match your existing teeth so no one will ever know you were missing a tooth. Implants truly restore form, beauty and function to your smile.
Am I a Candidate For Dental Implants?
Dr. Jayson Voto and Dr. Hill Trammell can help you determine if dental implants are the right option for your needs with a thorough examination and x-rays. Implants do require two things to be successful, and those are:
The patient is in good overall health
The patient has enough healthy bone structure to support the implant
We're happy to discuss all the options we offer to restore your teeth. Don't wait any longer to reclaim your oral health! Contact our office today to schedule your consultation.