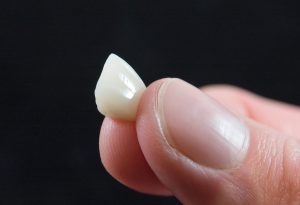 You have more options than ever to treat dental or cosmetic concerns; however, veneers and crowns are among the most common procedures. While you might think they are the same, there are significant differences between the two. You don't want to make the wrong decision for your smile. Here's what you need to know to determine if veneers or crowns are right for you.
Veneers VS Crowns
A dental crown is a customized cap that's bonded over the entire surface of a tooth above the gum line. They are widely used in restorative dentistry, but they also provide preventive and cosmetic benefits. Your tooth will need to be reshaped to allow the restoration to fit over it, which will be made of all-ceramic material to look natural. Generally, crowns are recommended to:
Protect a weakened tooth
Repair a chip or crack
Protect a tooth after a root canal
Treat significant decay
Support a dental bridge
A veneer is different because it only covers the front surface of a tooth to improve its color, size, and shape. However, when bonded to the teeth most visible when smiling, veneers can address several aesthetic flaws simultaneously. Since a veneer doesn't cover the entire tooth, only the front surface will need to be etched to preserve more of your natural smile. Veneers are often recommended for patients wanting to improve:
Stains or discoloration
Chips or cracks
Gaps between teeth
Benefits and Disadvantages
If you have a severely decayed or broken tooth, a dental crown may be the best option. It will create a protective barrier over your tooth to prevent additional damage while also restoring its health and function. Your crown will look and feel like a real tooth using durable all-ceramic material. A crown can also cover cosmetic issues, like an abnormally shaped tooth, but you don't want to apply them to all of your teeth.
Treating several teeth in a row with crowns will make your smile look bulky. Instead, veneers may be the better option. The overall goal of the procedure is to enhance the entire smile. Besides stains or gapped teeth, veneers can also resolve minor dental problems, like chips or cracks. Although veneers are thinner than crowns, they are durable, but you shouldn't apply them to the back teeth. It's better to place crowns on molars because they can withstand the pressure of chewing.
Veneers and crowns last for about 10 years or longer before needing to be replaced, allowing you to enjoy a long-term solution. Either option is a big commitment, but your dentist will help you choose the best option to create the smile of your dreams.
About Dr. Jayson Voto
Dr. Voto earned his dental degree from the University of Oklahoma College of Dentistry and regularly continues his education in advanced services, like cosmetic and restorative dentistry. Dr. Voto is a member of various professional organizations, including the American Dental Association. If you're interested in enhancing the health or appearance of your smile, contact our office today to request a consultation.