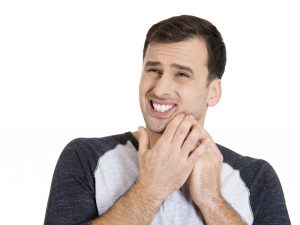 Opening and closing your mouth to eat or to speak is a function that most of us take for granted. And why not? We've all been doing it since the moment we were born. However, for some people the simple action of opening or closing your mouth can be painful. Hinges on either side of your face connect your upper and lower jaws. These hinges are medically referred to as your temporomandibular joints. Elements of this complex hinge can malfunction or be thrown out of alignment. When this happens professional care may be necessary. At Drake & Voto Family and Cosmetic Dentistry, Dr. Jayson Voto treats TMJ in Owasso with either oral appliance therapy or Botox injections.
Each of your temporomandibular joints is made of a delicate system of muscles, ligaments, discs and bones. Working in unison, these allow your lower jaw to move up and down, backward and forward, and side-to-side. If you place your fingertips just in front of your ears as you move your jaw, then you can feel these joints working.
Signs and Symptoms of TMJ Disorder
If your temporomandibular joints malfunction, then this condition is called TMJ disorder. The most common symptom of TMJ disorder is a sharp pain when you open your mouth widely, as when you yawn or take a big bite. Other frequent signs and symptoms include:
A clicking or popping sound when you open or close
Headaches
An earache, but no indication of ear infection
Feeling as if you jaw is locked or stuck
Swelling along the side of your face
Muscle tenderness
A sudden change in the way your upper and lower teeth come together
TMJ Treatment in Owasso
At Drake & Voto Family and Cosmetic Dentistry, we can eliminate the symptoms of TMJ with one of two treatment methods. Dr. Jayson Voto will be able to diagnose your condition and determine which treatment method is best for you.
The first option involves wearing a custom-fitted oral appliance at night while you sleep. This appliance helps to realign your teeth and jaw, so you can have relief from painful symptoms. For more severe cases, Dr. Voto may recommend Botox injections. Botox works by severing the nerve signal that instructs muscles to tighten. By relaxing the muscles in your jaw, symptoms often subside.
Call Our Office for TMJ Treatment is Owasso
If you have experienced any of the symptoms mentioned above, then schedule a diagnostic appointment with Dr. Voto at Drake & Voto Family and Cosmetic Dentistry in Owasso, OK. There's no reason to endure the pain and discomfort of TMJ disorder when help is only a phone call away.