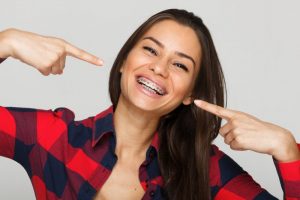 You've had a gap between your two front teeth for as long as you can remember, and it has always bothered you. Sometimes bits of food get stuck in it. It always stands out in pictures. If only there were an easy way to fix your front teeth! Luckily, there is – with a treatment called Six Month Smiles. This treatment can straighten your front teeth in as little as half a year, which is only a fraction of the time that traditional braces and Invisalign take. Keep reading to learn more about the benefits of Six Month Smiles in Owasso.
What Is Six Month Smiles?
Six Month Smiles is an alternative to braces and Invisalign that can easily fix gapped, crowded, or otherwise misaligned front teeth. This method only focuses on the teeth that show when you smile, which saves an incredible amount of time compared to traditional orthodontic treatment, which aligns the whole smile. Six Month Smiles also uses tooth-colored wires and clear brackets to make it much less obvious that you're undergoing orthodontic treatment.
What Are the Benefits of Six Month Smiles?
The main advantage of Six Month Smiles is right there in the name – you get to enjoy a perfectly straight smile in as little as six months. In addition to being more aesthetically pleasing, straight teeth are easier to clean, decreasing your risk of oral health problems like gum disease and tooth decay. Food no longer gets trapped in the gap in your front teeth, which can attract harmful bacteria.
Another benefit of Six Month Smiles is that the appliance is more discrete than traditional braces. Because of the clear brackets and tooth-colored wires, you can maintain a much more professional image than braces would typically allow.
Finally, Six Month Smiles is more often than not significantly less expensive than other orthodontic treatments. The brackets and wires are placed on fewer teeth and are worn for less time, resulting in lower costs for you.
If you're looking for an easy way to correct that annoying gap between your front teeth, look no further than Six Month Smiles in Owasso. By this time next year, you could be enjoying a fully straight smile!
About the Author
Dr. Jayson Voto is a 2006 graduate of the University of Oklahoma College of Dentistry. He is a member of the American Dental Association, American Orthodontic Society, Oklahoma Dental Society, and the Tulsa Dental Society. In addition, he is certified in Six Month Smiles to help correct minor orthodontic flaws in your front teeth, such as gaps. To learn more, visit Dr. Voto's website.