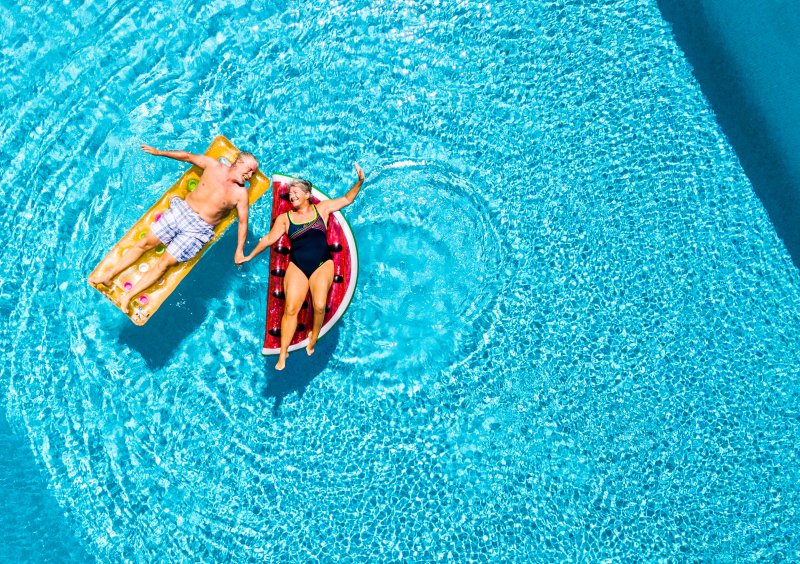 To better enjoy these summer months, chances are you have several fun things planned. Vacations, concerts, festivals, and other events are easier to come by this season. Still, you should watch out for anything that might hurt your teeth or gums during this time. As it turns out, several summertime activities can prove harmful to oral health. That said, make sure to protect your smile by exercising caution with these three practices.
Summer Drinks
People often have sweet drinks at the beach or closer to home in the summer. These can include soda, lemonade, fruit juice, and even alcohol. For whatever reason, many of us find them more appealing for quenching thirst.
It's too bad that many of these beverages have lots of sugar. The latter chemical causes oral bacteria to produce harmful acids that erode teeth. Left unchecked, this erosion can lead to tooth decay, cavities, and infection.
Honestly, it'd be best if you avoided these items entirely. If you can't, though, try to have them with a straw. That way, you'll keep the sugary liquid from reaching your teeth. On the other hand, you could have them in one go rather than sip them all day. Afterward, rinse your mouth with water to wash away lingering sugar and acids.
Pool Swimming
Cooling off in the local pool is one of the great traditions of summer. However, it can damage your pearly whites if you aren't paying attention.
For one thing, it's easy to have a dental emergency by the pool. You could trip and fall while running around it or hurt yourself while diving. For these reasons, dentists recommend that you follow recommended safety guidelines while poolside.
Even worse, chlorinated water can erode tooth enamel due to its acidity. You should thus check the PH balance beforehand— set it somewhere between 7.2 to 7.8 if possible.
Cold Treats
Cool, frozen treats can taste great this season. At the same time, they can cause tooth problems.
Besides their harmful sugar content, these can aggravate sensitive teeth. Such soreness can stem from a previously unknown cavity or exposed tooth roots.
If this sensitivity applies to you, use desensitizing toothpaste to numb your teeth. Don't use hard-bristled toothbrushes either, or brush too hard.
Don't let your summer get sidetracked by dental damage. Instead, remember the items above so that your smile enjoys this time as much as you do.
About the Author
Dr. Jayson Voto is a dentist based in Owasso, OK, having earned his DDS from the University of Oklahoma's College of Dentistry. His interest in dentistry is wide-ranging, as he constantly learns new technologies and techniques in the field. Therefore, he's quite skilled in preventive, cosmetic, and restorative dentistry, not to mention emergency dental treatments. Dr. Voto currently practices at his self-titled clinic and can be reached at his website or by phone at (918)-272-5381.