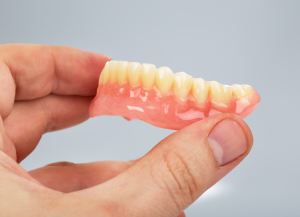 Dentures are perhaps the most tried-and-true of all dental restorations; they've assisted countless generations of patients with missing teeth, and due to advancements in dental technology, likely aren't disappearing anytime soon! That said, as convenient and life-changing as dentures can be for patients with compromised smiles, they have the tendency to become foul-smelling if they aren't correctly cared for. Continue reading below to learn a little more about why this can sometimes happen, along with a few tips to help you keep your dentures clean and pleasant to wear!
What Causes Dentures to Smell Bad?
Just like natural teeth, dentures are susceptible to bacterial buildup and plaque formation—but although they don't have enamel that can be targeted, they're still vulnerable to other issues. When food particles and bacteria accumulate on the denture surface, as they grow, they can produce unpleasant odors if proper oral hygiene is neglected. This can also lead to staining and discoloration in the dentures.
How Can I Prevent Denture Odor?
Fortunately, it's relatively easy to care for dentures and ensure that they are functional, clean, and not foul-smelling at all. Here are some tips that are certain to help:
Establish a daily cleaning routine – Create a daily cleaning routine for your dentures; use a soft-bristled toothbrush and mild denture cleaner (or mild hand soap) to gently remove food particles, bacteria, and stains. Avoid using abrasive materials that could damage the dentures.
Remove your dentures at night – Dentures aren't meant to be worn permanently; giving your gums a break at night allows for proper ventilation and reduces the risk of bacterial overgrowth. Soaking your dentures in an appropriate cleanser overnight is advisable.
Practice sensible oral habits – Brushing and keeping your dentures clean is only part of the equation. You should also strive to maintain a healthy diet, reduce your intake of sugary items, and avoid bad oral habits like smoking or using tobacco, which are certain to tarnish your dentures and make them gross.
Stay hydrated – Water is by far the best beverage for one's oral health. It increases saliva flow within the mouth, which further bolsters your level of protection against the bacteria that cause cavities and foul-smelling breath.
See your dentist regularly – You should also schedule regular visits with your dentist to ensure that your dentures fit properly, as well as to address any underlying oral health issues. Your dentist is the expert on all things relating to oral health, including dentures, meaning they're one of the best resources at your disposal for keeping your smile beautiful and odor-free!
About the Author
Dr. Jayson D. Voto received his DDS from the University of Oklahoma College of Dentistry and has proudly served patients and families in the Owasso, OK community for several years. His practice is thrilled to offer a wide range of preventive, cosmetic, and restorative treatment options including both partial and full dentures. If you have any questions about the blog, or you'd like to schedule a visit with Dr. Voto, feel free to contact his team online or by phone for additional information or assistance. Telephone: (918) 272-5381.