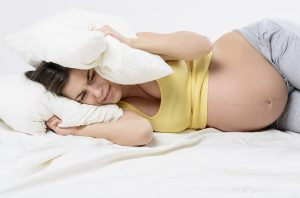 Poor sleep quality and quantity during pregnancy can disrupt an otherwise healthy baby from developing without issues. Disruptions in sleep can lead to lower birth weights, a lessened immune system, and other complications like depression in the mother. This can turn into a double-ended sword since poor sleep can lead to depression and depression can backlash and interrupt good sleeping habits. What if you could avoid all of these potential problems for you and your baby by identifying your sleep disorder? Believe it or not, your Owasso dentist is probably the best professional to assist you with this health problem. Obstructive sleep apnea may be the cause of your restlessness and snoring throughout the night.
What is obstructive sleep apnea?
An estimated 22 million Americans suffer from sleep apnea—a potentially deadly sleeping disorder. Obstructive sleep apnea (the most common type) is a condition that causes your airway to become blocked while you're sleeping, which you have pauses in breathing or very shallow breaths while you sleep. If you think you may have sleep apnea, you or your partner have most likely noticed some of these symptoms:
Loud, chronic snoring
A dry throat in the mornings
Fatigue
Choking or gasping while sleeping
Restlessness
Forgetfulness
Mood changes
Inability to focus
Insomnia
Decreased sex drive
What are the health risks associated with sleep apnea?
The lack of oxygen makes your brain suddenly send emergency signals, forcing your body to jolt awake just long enough to clear your airway. Most patients hardly remember waking up, but this not only interrupts your critical sleep cycle, but it also creates these health complications and risks:
Severe morning headaches
Hypertension
Heart disease
Strokes
Diabetes
Weight gain
Memory issues
Fatigue and daytime exhaustion
Depression and anxiety
What can our dental office do to help?
Most cases of sleep apnea are caused by an obstructed airway. When your airway is blocked, it's difficult for your body to get the appropriate amounts of oxygen. Fortunately, the dental team at Drake & Voto Family and Cosmetic Dentistry has a solution that can help solve your sleeping problems: a custom oral appliance. Patients suffering from sleep apnea in Owasso tend to sleep better because their airways are kept open throughout the night.
Not any mouthpiece that can be bought at a local drug store will work the same as a doctor prescribed, custom oral appliance. To be effective, the appliance must be personalized to fit each patient's mouth and properly shift your jaw open to clear the airway.
How can I start sleeping better soon?
If you're interested in receiving a custom oral appliance from one of our dental experts, you must first be diagnosed with sleep apnea. We have a sleep apnea test that you are more than welcome to take during a dental appointment at our Owasso office.
Once you've been diagnosed, we will take impressions of your teeth and create your custom oral appliance. It's that simple! You can enjoy full sleep cycles again as soon as you start wearing your oral appliance regularly. This should improve your overall quality of life (for you and your child), mood, relationships, and general health. It all starts will one phone to our dental office. Contact us today to get started!