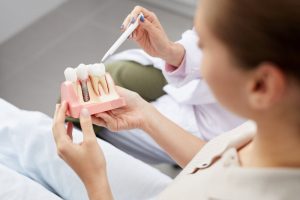 According to the experts, the first dental implants existed nearly 4,000 years ago in China. While it is believed that they used bamboo pegs to replace missing teeth, evidence shows that copper pegs, seashells, and animal teeth were all materials used in ancient times. Fortunately, dental implants have come a long way since then and are a leading treatment option completed by dentists today. In fact, dental implant procedures increased by over 6% between 2019 and 2020 alone. While they have cosmetic advantages, they can do more than just that. Read on for four benefits of dental implants in Owasso
Benefit #1: Dental Implants Can Improve Your Pronunciation
Although your tongue is instrumental to your speech, your teeth play a crucial role as well. To form words, your tongue uses a multitude of distinctive movements against your teeth to create sound. When there are missing gaps in your smile, it disrupts your ability to form words accurately, which can lead to slurred or otherwise impaired speech. While dental interventions, like dentures, can help fix missing teeth, they are still prone to moving around inside the mouth and negatively impacting speech. Fortunately, dental implants are surgically implanted into the jawbone, which restores your smile while also eliminating the issue of unwanted movement.
Benefit #2: Dental Implants Restore a Powerful Bite
Whether it is biting into your favorite meal on your birthday or chomping on a delicious snack during your favorite movie, your teeth are essential to your digestive process. While you are chewing, enzymes are released which help break down your food for maximum nutrition. However, when patients have missing teeth, they are vulnerable to developing nutrient deficiencies. Plus, they can experience indigestion from the food not being broken down properly. Fortunately, dental implants are extremely durable and can effectively restore a strong bite!
Benefit #3: With Dental Implants, You Can Say Goodbye to Oral Pain
Thanks to innovations in technology and technique, dental interventions, like dentures and bridges, have provided patients across the board an effective, restorative treatment option. However, some patients report experiencing abrasions and mouth sores from the movement while talking and eating. However, dental implants use the jawbone for support, which allows them to remain firmly in place and avoid the oral pain other solutions can cause.
Benefit #4: Dental Implants Protect Your Healthy Teeth
For patients with missing teeth, chewing with their natural teeth or on the other side of their mouth can prevent their gums from becoming irritated or inflamed. However, the teeth that are overcompensating can rapidly wear from excessive use. By using dental implants, you can restore balance to your bite and protect your healthy teeth from needing treatment.
If gaps in your smile are negatively impacting your self-confidence and health, then it is time to talk to your dentist about dental implants. In just a few visits, you can restore your smile, bite, and speech with a long-term solution that is durable and natural-looking!
About the Author
After obtaining his undergraduate degree from the University of Oklahoma, Dr. Jayson Voto studied dentistry at the University of Oklahoma College of Dentistry. Backed by the latest technology and techniques, Dr. Voto has provided exemplary care to his patients for the past nearly 15 years. Currently, he is a member of multiple prestigious organizations, including the American Dental Association, and participates in the Spear Study Club. If you are looking for a cosmetic dentist in Owasso, don't hesitate to contact him through his website or give him a call at 918-272-5381.