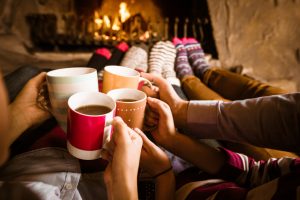 We know you've got a lot of things on your mind this time of year, but there's never a good excuse for ignoring your oral hygiene. And during the holiday season, when sweet treats and snacks abound, it's especially important to stay on top of your oral health. Your dentist in Owasso has some special tips for keeping your teeth and gums in good shape during November and December!
#1: Watch out for dangerous treats
We love holiday sweets as much as anyone else, but some of them are just no-nos for your teeth. Popcorn balls, toffee, and peanut brittle? Move to the next item, please. We see a number of dental injuries around this time of year thanks to people indulging in their favorite tooth-breakers. The holiday season is also known for its cream pies and moist cakes — why not indulge in those, instead? Just make sure you're brushing your teeth thoroughly at night and in the morning to remove sugary acids. Brushing after every meal would be even better.
#2: Develop the flossing habit
It's not quite time for your New Year resolutions, but why not get started a little early? It's crucial that you maintain good brushing and flossing habits during the holiday season. So if you're not in a regular flossing routine yet, try the following steps to develop a good habit. They say it takes two weeks to make something stick, so start today and you could be flossing like a champion before the end of the year!  
Place the floss somewhere you are sure to see it every night, so you can't claim forgetting as an excuse.

Keep track of your progress on a calendar. It's a visual record that can help you see how much of a difference you're actually making.

Get everyone else in the family involved, too. Accountability is necessary for developing any good habit.
Have other tips for getting into a flossing routine? Please feel free to share them with us!
#3: Stock your own home with healthy holiday treats
To protect your and your family's oral health during the sweetest time of year, stock your own pantry with low-sugar treats. Take some time to find new, guilt-free (but delicious) treats to add to your holiday tradition. These healthy holiday desserts are sure to have the whole family smiling!
#4: Schedule a teeth cleaning in Owasso
To really boost your oral hygiene this month, schedule a checkup and cleaning at Drake & Voto. Our dental hygiene team will remove the plaque and tartar that cause cavities and gum disease, and your dentist will check for the presence of these and other issues.
If you have dental insurance but haven't received two checkups and cleanings in 2016, that's even more incentive to schedule an appointment. It's completely covered under your plan! Make the most out of your investment in dental health and boost your smile health at the same time. Contact us to schedule an appointment today!