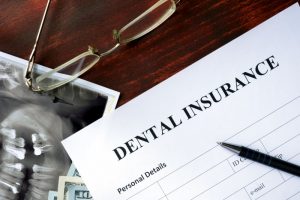 With the year coming to a close, there are probably deadlines throughout your life that you're aware of. Car registration, RSVP's, work, and taxes are just a handful of things that may have a deadline at the end of the year. But, there's something that you may not have thought about yet that expires at the end of the year too: your insurance. Each year, billions of dollars in dental insurance benefits are wasted because they don't roll over. Keep reading to discover why you should always use your benefits before January 1st.
Your Yearly Maximum
Your yearly maximum is an important number to know. It's the most amount your dental insurance is willing to pay for your dental work in one year. Yearly maximums average around $1,000, and to get the most out of your benefits you should try to reach or exceed it. Be sure to contact your insurance to figure out what your maximum is, so you can use it to its fullest potential.
Your Deductible
Your deductible is the amount you have to pay before your insurance will step in. Usually around $50, the deductible is a payment that also restarts with the new year. So, if you already paid your deductible, you should take advantage and get the dental treatment that you need. You may also have a higher deductible if you see an out-of-network dentist.
Overlapping
If you know that you have particularly expensive dental treatments that you need in the next year, it's possible to use overlapping to your advantage. You can start your treatment in one year and finish it in the next to maximize your benefits and cut down on out-of-pocket costs.
Your Paid Premiums
If you pay premiums out of every paycheck, you should definitely be utilizing your benefits. Preventive visits like regular checkups and cleanings are typically covered by most insurance plans, so they are a great way of using up your benefits. Besides saving money, these visits also keep you healthy by preventing and detecting early signs of decay, oral cancer, gum disease, and more.
Your Oral Health
The only thing better than saving money is saving yourself while doing it! Many people put off dental treatment for reasons like time, money, or extensiveness. The problem is that prolonging dental treatment will actually put you at risk for much more expensive and invasive dental procedures. For example, a cavity can turn into a root canal if it's left untreated. This is a more expensive and involved procedure than a simple filling.
Do you want to save money and take care of your smile at the same time? Use these tips to get the most out of your dental insurance benefits before they are gone.
Meet the Dentist
A graduate of the University of Oklahoma College of Dentistry, Dr. Jayson Voto provides high-quality dentistry to his patients in Owasso. He accepts most major dental insurance plans to provide you with expert and affordable dentistry. He currently runs his own practice, and he can be contacted through his website or by phone at (918) 272-5381 for any questions.