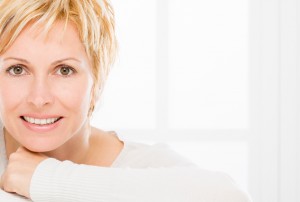 A lined, tired appearance can make you look older than you feel. Owasso cosmetic dentists, Dr. Jayson Voto and Dr. Hill Trammell, use BOTOX Cosmetic injectables to refresh facial appearance. BOTOX is one of several cosmetic services offered to create the healthiest, best-looking you possible.
What is BOTOX?
BOTOX injectables are FDA-approved, pharmaceutical grade botulinum toxin–a long-winded way of saying they are a safe form of a natural substance that limits the function of facial muscles. Doctors and now, cosmetic dentists, place BOTOX into the areas of the face where dynamic wrinkles form–in other words, lines that result from facial movements such as smiling and frowning.
The most common areas in which the Owasso cosmetic dentists use BOTOX are:
Crow's feet around the eyes
Horizontal forehead wrinkles
Corners of the mouth
Chin
The effects of this popular aesthetic treatment last anywhere from 3 to 6 months. With repeated injections, smooth results last longer. Additionally, many doctors use other formulations of BOTOX to treat TMJ (temporomandibular joint) dysfunction, excessive sweating, migraines and overactive bladder.
The BOTOX procedure
The doctor uses a very thin needle to inject the BOTOX preparation into targeted areas. Patients compare the needle prick to a mosquito bite. Afterwards, the patient resumes normal activities and experiences only some minor redness and swelling that resolve very quickly.
The result of BOTOX treatment is a natural-looking relaxation of the targeted areas with little evidence of hard lines and wrinkles. It takes 3 to 7 days for the medication to reach its maximum smoothing effect, and while not permanent, a face treated with BOTOX Cosmetic stays line-free for quite some time with occasional touch-up injections.
Other cosmetic facial and dental treatments
Drs. Voto and Trammell also offer qualified patients new, longer eyelashes with Latisse, a breakthrough lash growth preparation that is approved by the Food and Drug Administration. Also, they treat deep wrinkles around the mouth and at the sides of the nose with Juvederm dermal fillers, also fully FDA-approved.
To complement younger-looking skin, the dentists deliver wonderful aesthetic dental services, too:
In-office and at-home professional teeth whitening for a brighter, no-stain smile
Porcelain veneers to cover cracks, chips, heavy discoloration and uneven tooth shape
Invisalign clear aligners and traditional orthodontics for straight smiles that are healthy, too
Crowns, bridges and modern dental implants to span smile gaps
Drs. Voto and Trammell always perform a comprehensive dental exam and discuss the patient's medical history before recommending and going forward with any cosmetic services. Their goal is your best and healthiest smile and the best and healthiest you.
Contact Drake & Voto Family & Cosmetic Dentistry
If you would like to explore the many enhancements available from your Owasso cosmetic dentist, contact the office staff for a convenient consultation appointment. Why wait? A rejuvenated face and smile are just a phone call away.