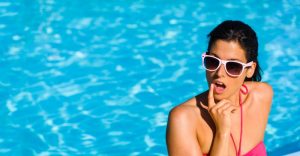 As the sun starts to shine brighter and the temperatures get warmer, it will soon be time for hours of swimming at public pools. To maintain cleanliness, chlorine is used in the water, which can sometimes make it more acidic. With that in mind, is swimming bad for your teeth? Continue reading to get the answer and to find out what you can do to better protect yourself.
A Closer Look at Chlorine
Before chlorine was added to drinking water, thousands of Americans died from numerous waterborne diseases each year. By adding chlorine and pH alterations as a first defense against microorganisms, many of the following bacteria-related issues were decreased:
Diarrhea
Skin rashes
Ear pain
Coughing
Congestion
Eye pain
The Potential Danger to Your Oral Health
While the chlorine included in your tap water is generally not enough to impact your oral health, swimming in a pool regularly can have some effects. As mentioned above, there will often be an elevated pH level. And since water tends to seep into the mouth when swimming, spending time in a pool daily could contribute to enamel erosion (called swimmer's calculus). As a point of reference, the Centers for Disease Control (CDC) recommends maintaining the pH levels of treated water to between 7.2 and 7.8. Furthermore, the free chlorine concentration in pools should be at least 1 part per million.
If you swim often, you should especially be on the lookout for any signs of tooth discoloration and front teeth with a transparent appearance. In the later stages of enamel erosion, you may even experience some discomfort when consuming hot or cold foods or beverages.
Ways to Protect Your Teeth
Instead of merely avoiding swimming, here are some ways to spot potential problems and protect your teeth:
Look for Signs of High Acidity – If you're at a public pool, pay attention to any signs of acid eating away the surfaces of pool linings, railings and ladders. If you notice any spots of erosion, chances are your teeth will be affected, too.
Test with pH Strips – You can typically find pH strips at a local recreational supply store. This will allow you to test the water before jumping in.
Hire a Pool Specialist – If you own a pool, you may choose to perform the maintenance to save a few bucks, but that could become problematic, as it requires consistent attention. You'll probably be much better off hiring a specialist to take care of all the minor details that will help to keep you safe.
When you visit a local dentist, you can receive a thorough examination just to make sure your teeth are as healthy as possible. While there, you can also get even more expert tips about ways to protect your ivories while enjoying the beautiful summer weather!
About the Author
Dr. Jayson Voto earned his dental degree from the University of Oklahoma College of Dentistry. He has since gone on to provide nearly two decades of superb dental services to the surrounding community. A member of the Oklahoma Dental Society and the Tulsa Dental Society, Dr. Voto tirelessly works to stay abreast of the constant changes in the world of dentistry. He provides preventive dental care to stop problems before they start at his private practice, and he can be reached for more information or to schedule a visit through his website.