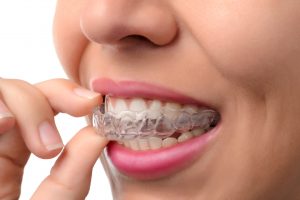 Have you spent years covering your mouth when you smile or laugh? Feeling self-conscious about your appearance can make everything from a first date to a job interview more difficult – and that's no way to go through life! And since it's 2019 and we just rang in the New Year, why not make this the year you achieve the straight, even smile you've always wanted? Invisalign in Owasso is a fast, easy alternative to traditional braces that can help you make that a reality. Keep reading to learn more about how Invisalign works, the advantages it offers, and whether you're a good candidate!
How Does Invisalign Work?
Instead of using brackets and wires like traditional braces, Invisalign relies on clear plastic trays to move your teeth into their ideal position. Your treatment time will be determined after your initial bite evaluation and you'll start by wearing your first set of aligner trays at least 22 hours per day.
Every 2 weeks you'll move to your next set, which will make small, incremental movements until you get your final results.
What Are the Advantages of Invisalign?
Of course, the most obvious benefit is that Invisalign is invisible, but the advantages don't end there:
Since the trays are removable, you can brush and floss just like before, making it much easier to maintain healthy teeth and gums. You also won't have dietary restrictions the way you would with traditional braces.
The average treatment time is between 6 -18 months instead of 18-24 months for braces.
Clear plastic trays are much more comfortable than brackets and wires.
Will Invisalign Work For You?
Every patient is unique, so the best way to know if Invisalign will work for you is scheduling a consultation with a dentist who offers orthodontics in Owasso.
With that said, Invisalign is a great way to treat mild to moderate cases of the following issues:
Overbites and Underbites
Crowding
Gaps
Crossbites
However, it's important to have relatively healthy teeth and gums at the start of treatment, so if you have any cavities or signs of gum disease, those needs will be addressed first.
Also, if you have severe bite and alignment issues, traditional braces will most likely give you a better result.
Finally, the ideal patient can commit to wearing their trays for a minimum of 22 hours each day – otherwise, the final result can take longer.
There's no reason to let feeling embarrassed of a crooked smile hold you back from life, especially when Invisalign makes it so easy to correct. Why not make 2019 the year that you can smile with pride and enjoy all the self-confidence that goes with that?
About the Author
Dr. Jayson Voto is a family dentist who knows that orthodontic treatment isn't a one-size-fits-all approach. That's why he provides multiple options so that everyone can experience the confidence that comes with a straight, even smile. If you'd like to know more about orthodontics in Owasso and have any other questions, he can be reached via his website or at (918) 973-6120.