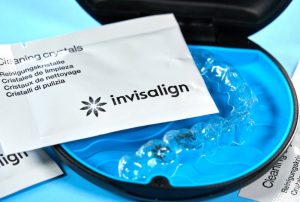 You are so excited to be on the journey to straighter teeth with Invisalign! You have been wanting to fix your smile for a long time and now you are finally doing it. While you love the convenience and discretion of the removable aligners, you have noticed that they are becoming a bit discolored and yellow. Fortunately, your dentist already provided a solution for this problem by giving you a few packets of cleaning crystals in your Invisalign kit. Read on to learn more about this helpful product and how to use it!
What Are Invisalign Cleaning Crystals?
Cleaning crystals were designed by Invisalign to give you a way to thoroughly clean and disinfect your clear aligners (and retainers). They kill any bacteria that can grow on the aligners, as well as help remove any plaque build-up to keep them fresh and clean. By soaking your plastic trays in them regularly, you can keep them in top condition. Invisalign cleaning crystals are made from non-toxic materials that are safe for your smile and are clinically proven to clean your trays and reduce discoloration.
A Step-By-Step Process on How to Use Your Invisalign Cleaning Crystals
Although you were given the cleaning crystal packets, you may be unsure of how to use them. Luckily, they are super easy to use. To give your aligners a deep clean, follow these simple steps:
Step 1: Remove your aligners and rinse them with clean water
Step 2: Gently place your aligners in a container with warm (not hot!) water
Step 3: Add a packet of cleaning crystals to the water
Step 4: Gently shake the container, dissolving the crystals in the process
Step 5: Let your aligners soak for at least 15 minutes
Step 6: Remove your aligners from the container, rinse them with clean water, and place them back in your mouth
When You Should Use Your Invisalign Cleaning Crystals
As stated above, your Invisalign welcome kit will come with a few packets of cleaning crystals. You can use them as often as twice a day if you'd like! However, that is not necessary. You will keep your aligners sanitized and clean by using them just once a day. While the few packets that were given to you should be enough, you can always speak with your dental team about ordering more. Be sure to not use denture cleaner, mouthwash, or any other cleaning items on your aligners without talking to your dentist first.
Before placing your aligners back into your mouth, you should rinse thoroughly. For an extra measure, you can even brush them gently with a toothbrush. When you remove them to eat or drink, be sure to properly store them to not only keep them from being lost but minimize exposure to germs.
Getting straighter teeth with Invisalign is exciting and you want to keep your trays in their best condition for your smile. With these helpful tips, you will keep your aligners perfect as they perfect your teeth!
About the Author
Dr. Jayson Voto keeps the smiles of Owasso healthy and beautiful. He graduated from the University of Oklahoma College of Dentistry and is an active member of several dental associations, including the American Dental Association and the American Orthodontic Society. By providing a full range of comprehensive dental services, including cosmetic treatments like Invisalign, he can help you achieve any of your smile goals. To schedule an appointment, contact him through his website or call (918) 272-5381.