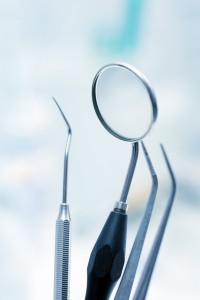 Preventive care and restorative care are two of the most important services offered by Drake & Voto Family and Cosmetic Dentistry. Both are important for maintaining good oral and overall health throughout life, but out of the two, preventive dentistry is the most essential, as it can help you prevent the need for restorative care altogether.
Dr. Gene Drake and Dr. Jayson Voto recommend that all patients see a dentist twice a year. Care this frequent will let our Owasso dental team watch for developments like cavities and gum disease—two of the most common oral health problems any patient can face. Even if nothing is found—and we hope that's the case—we can still clean your teeth, which is what will help you prevent the need for extra care in the first place. Brushing and flossing at home is effective, but a professional hygienist can help you clean areas that are hard to reach with just a toothbrush and floss.
During your appointment, if we find that you need extra help, Dr. Drake and Dr. Voto are happy to recommend a treatment plan. Fillings will restore teeth affected by decay, while gum disease therapy will treat gum disease. Other services we offer include:
Root canal therapy
Dentures and partials
Traditional braces
Dr. Voto and Dr. Drake are happy to explain what each service entails, and they can answer any questions you have. Our Owasso team wants every patient to feel comfortable with the plan we recommend.
Do you need help with preventive or restorative dentistry? Call Drake & Voto Family and Cosmetic Dentistry today for an appointment. We're happy to serve patients from Owasso, Claremore, Sperry, Collinsville, Tulsa, Skiatook, and all surrounding areas.