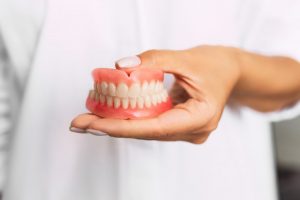 When they're properly fitted, dentures are a great way to bring back your ability to talk and eat after you have lost most or all of your teeth. Today's dentures can even be made to look just like your natural teeth, allowing you to smile with complete confidence. However, after tooth loss, the ridges of your gum tissue naturally begin to shrink, causing your dentures in Owasso to eventually not fit as well as they originally did. Teeth that slip around while eating are annoying enough on their own, but poorly fitting dentures can even lead to health problems. Here are five of them.
Gum Irritation
If your dentures don't fit well, they won't stay in place. Instead, they'll rub up against the gums tissue, irritating it and causing inflammation. Over time, this can be seriously painful.
Blisters and an Increased Risk of Infection
The motion caused by ill-fitting dentures can result in blisters forming on your gums, the insides of your cheeks, and other parts of the mouth. Blisters, like any cut or scrape you get in your mouth, can become infected. These infections in your mouth could even spread to other areas of your body, putting your overall health at risk.
Headaches and Ear Pain
Believe it or not, but loose dentures could put undue pressure on your temporomandibular joint (TMJ) that connects your jaw to your skull. A common side effect of this added pressure is pain in your ear or head.
Uneven Bite
Eventually, poorly fitting dentures can impact the way your bite is aligned, which can cause all sorts of problems. For example, saliva might start to pool on both sides of your mouth, ultimately contributing to the development of yeast that causes infection.
Jawbone Atrophy
Unnecessary wear and tear on your gums and jaw can cause the underlying bone to deteriorate. Once an excessive amount of jawbone mass is lost, it will not be able to produce new bone tissue to take its place.
In order to avoid all of the health problems listed above, call your dentist once you notice your dentures not fitting as well as they once did.
About the Author
Dr. Jayson Voto earned his dental doctorate from the University of Oklahoma College of Dentistry. Backed by the latest technology and techniques, Dr. Voto has provided exemplary care to his patients for the past nearly 15 years. Currently, he is a member of multiple prestigious organizations, including the American Dental Association, and participates in the Spear Study Club. If you are looking for a dentist to help you with your dentures, don't hesitate to contact Dr. Voto through his website or give him a call at 918-272-5381.