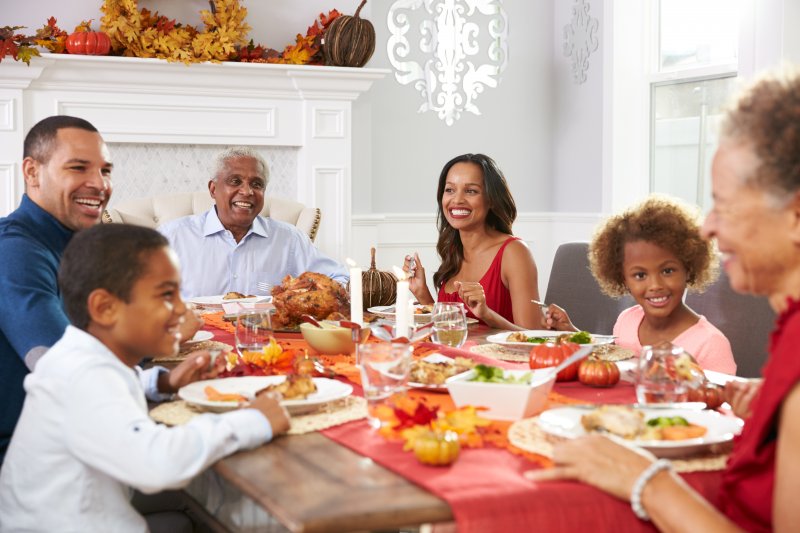 Millions of Americans suffer from tooth loss. If you're a part of that group, you know firsthand how much it can affect your quality of life. The foods you used to enjoy with no issues are now off-limits, and you may feel self-conscious about the gaps in your smile. Fortunately, you don't have to dread the holiday dinner and festivities any longer. With dental implants, you can get the most out of your Thanksgiving and every other holiday that rolls around! If you want to learn how, just keep reading.
What Are Dental Implants?
Dental implants are medical devices that are surgically inserted into the jawbone. They're the only method designed to replace the entire structure of a missing tooth, from the root up to the crown. Unlike other replacement options, dental implants act, look, and feel just like natural teeth. Once fully healed, you can enjoy unmatched stability and durability. What's more, you can enjoy your new smile for several years with proper dental care – sometimes even a lifetime!
How Dental Implants Can Help You Enjoy Thanksgiving
If you have dentures or missing teeth, you may not be able to get the holiday experience you deserve. Luckily, dental implants can make you feel comfortable and confident this season. Here's how they can help you enjoy your Thanksgiving.
Enjoy Good Oral Health
Since dental implants are inserted into the jawbone, mimicking natural tooth roots, they promote new bone growth over time while keeping your restoration firmly in place. As a result, it stabilizes all the surrounding teeth and gum tissues, preserving a fuller, youthful facial structure. Therefore, not only can you enjoy a long-lasting smile, but a positive impact on your long-term oral health.
Indulge In Your Favorite Foods
On Thanksgiving, we spend our day sharing gratitude, reconnecting with loved ones, and (of course) eating. Are you dreading having to skip out on all your favorite seasonal foods because you have missing teeth? That won't be an issue if you get dental implants. Since they restore a strong, healthy bite, you can comfortably indulge in your favorite foods once again. You'll regain as much as 70% of your natural biting power, meaning you can eat almost anything! Of course, it's always a good idea to be cautious and avoid anything overly sticky or hard.
Smile with Confidence
During the holidays, we see friends and family members we haven't seen for months – sometimes even years. Thanksgiving is the perfect time to gather with loved ones and catch up on lost time. Unfortunately, those with gaps in their smile may dread socializing because they're self-conscious. Well, dental implants can help you beam with confidence once again. You'll proudly show off your new grin every chance you get!
Don't let your smile hold you back this Thanksgiving. With dental implants, you can get the most out of this holiday season and spend your time relaxing with your family – not worrying about your grin!
About the Author
Dr. Jayson Voto has over 12 years of dentistry experience under his belt. He completed his dental education at the University of Oklahoma College of Dentistry. Dr. Voto and his team are passionate about helping patients achieve optimal oral health. If you have missing teeth, we can restore your smile and confidence with dental implants. To schedule a consultation, visit our website or call (918) 272-5381.