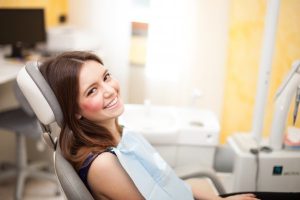 It's unfortunate, but many people in America will actively put off their dental visits because they want to save money. However, what most people don't realize is by putting off regular dental visits or not going to the dentist at all, they're at higher risk of spending more money on dental care than if they had just gone in the first place. Yes, oral hygiene is important, but so is getting a professional exam and cleaning from your dentist. Keep in mind, it's not just your oral health that your dentist is looking out for.
Why Skipping Dental Visits is Counterproductive
You may reap some short-term savings by skipping your biannual dental visits. However, when a dental emergency appears, or you find out a dental disease is causing significant problems, you'll find yourself regretting that decision. According to your dentist, most dental disease can be prevented by simply committing to regular visits. In fact, most disease in general is preventable, but only if you have your medical professional exam you and confirm no problems exist.
For example, preventive services like dental sealants can prevent 80 percent of cavities in children, and that service can be completed in a single visit. Think of it this way. Every dollar spent in preventive care can save you and your family between $8 and $50 in emergency treatments. Whether it's exams, cleanings, or anything in between, it's more cost-effective to practice preventive care, rather than wait for an issue to happen.
You Can Prevent Dental Emergencies
For those who prefer to wait until a dental emergency appears to seek treatment, you'll be disappointed to hear that treatments associated with dental emergencies are typically far more expensive. For example, if you need a tooth extracted because it became infected, replacing it with a dental implant will cost you thousands of dollars.
Furthermore, other restorative treatments such as crown restorations and placements, root canal therapy, and periodontal therapy all cost far more than getting a routine cleaning and examination.
Practicing Preventive Care is Money Well-Spent
When you visit your dentist every six months, you aren't just getting an exam or a cleaning. You're getting peace of mind that your at-home oral hygiene is sufficient. You're also confirming that you don't have:
Gum disease
Tooth decay
Tartar
Oral or pharyngeal cancer
Markers for more serious diseases (such as diabetes, heart disease, stroke, etc.)
You'll also get the opportunity to protect yourself with fluoride treatments which strengthen your tooth enamel.
In 2013, two million people visited the hospital due to dental pain. Don't be part of that statistic in 2018. Schedule an appointment with your dentist today!
About the Author
Dr. Jason Voto earned his Doctor of Dental Surgery degree from the University of Oklahoma School of Dentistry. He's currently a member of the ADA, the Academy of General Dentistry, the American Orthodontic Society, and many other dental organizations. To learn more about his preventive treatments or practice, contact him at (918) 272-5381 or visit his website.