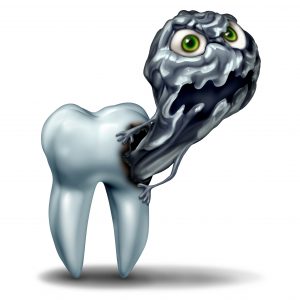 You may have heard about the different contributors to cavities, but what if there is a hidden cause? New research suggests that there may be, as scientists have found links between tooth decay, other oral issues and genetics. As you continue reading, your local dentist will delve deeper into this topic and give you some helpful tips that will aid in maintaining your oral health.
What Causes Cavities?
The primary cause of dental caries are bacteria. They are always present in your mouth and seek to latch on to any leftover food particles, using them as sustenance to grow and multiply. If you fail to practice excellent oral hygiene, which consists of brushing and flossing your teeth at least twice a day, then you will be more susceptible to bacteria growth.
As they feed, they cling to your teeth and form plaque, a sticky substance that bores into your tooth enamel and causes decay.
But, are some people more prone than others to experience this type of problem?
How Your Genetics Can Influence Your Oral Health
Studies have yielded evidence that certain dental problems can be hereditary, including:
Tooth Decay – As we discussed above, your susceptibility to developing dental caries has been found to be related to your family history. Scientists have isolated a specific gene that is believed to be the culprit, but there is a way to reverse the trend through such methods as dental sealants and fluoride treatments.
Periodontal (Gum) Disease – Recent studies show that up to 30 percent of the population may be genetically predisposed to developing gum disease. One of the most effective ways to combat this is with early detection and treatment.
Oral Cancer – Thousands of Americans succumb to oral cancer each year. While lifestyle choices factor greatly into developing this condition, genetics still play a role in how vulnerable a person is. One of the best ways to avoid this disease is to abstain from harmful activities like chewing tobacco and smoking.
How Your Dentist Can Help
Being told that you have a greater disposition toward developing certain oral problems can be a little overwhelming, so it's good to know that your dentist can help you reverse the trends. Thus, he offers preventive care so that you can remain proactive about maintaining your oral health.
At these visits, two main things will happen:
You'll receive a thorough cleaning that will remove any stubborn plaque and tartar that have accumulated on your teeth and beneath your gumline.
Additionally, both your dentist and hygienist will conduct a series of tediously done examinations that will identify any developing problems.
Your genetics don't have the final say in your oral health. With a little effort and help from your local dentist, you'll be able to enjoy a life full of dental wellness and happiness!
About the Author
Dr. Jayson Voto earned his dental degree from the University of Oklahoma College of Dentistry. In his postgraduate capacity, he strives to learn more and stay abreast of the latest changes in the world of dentistry. Thus, he maintains membership in several professional organizations. Dr. Voto practices at Drake & Voto Family and Cosmetic Dentistry and can be reached for more information through his website.