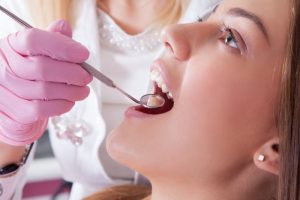 How often do you visit your general physician? Is it yearly for a physical? Perhaps it's every other year? Maybe you only go when you're sick? Most people fall somewhere in between these time frames, so it's not surprising that those who stick to a consistent six-month schedule with their dentist will typically visit them more than their primary physician. For this reason, it may be beneficial for your dentist to perform a screening for diabetes.
Diabetes in America
It is estimated that almost 30 million Americans live with diabetes. Of this number, over 8 million are patients that are undiagnosed. Because there is no cure for this disease, it's important that it's managed correctly in order for patients to maintain their health.
Because more patients visit their dentist on a regular basis, it could be beneficial having a dentist perform diabetes screening in order to detect it as soon as possible. A recent study has shown that your dentist can successfully use oral blood to complete a diabetes screening producing the same results as blood that is drawn from a finger stick. This could help reduce the amount of undiagnosed cases of diabetes and help patients get the care they need early on.
The Oral Systemic Connection
There is also a proven link between periodontal health and overall health. We've learned that the bacteria that causes gum disease can also contribute to health concerns like heart disease and diabetes, and vice versa. This is known as the oral systemic connection, and it may also be beneficial to your oral health to diagnose diabetes earlier.
Prevention is the Key to Optimum Health
Visiting your dentist every six months for routine cleanings and checkups is important for maintaining optimum oral health, and it seems overall health as well. Examinations with your dentist can detect issues such as gum disease, oral cancer, and tooth decay early on, giving you a good opportunity to treat these concerns with less invasive treatment procedures.
Dentistry is all about preventing issues before they start, and if dentists could help their patients maintain their overall health this would be beneficial to patients and physicians alike.
About the Author
At Drake and Voto Family and Cosmetic Dentistry, our team is comprised of two highly skilled dentists who work together to provide high quality care and an exceptional experience for patients residing in Owasso, OK. Dr. Jayson Voto and Dr. Hill Trammell strive to provide a comprehensive array of dental services so you won't need to rely on any other practitioner for your dental care.
If you'd like to contact our team, we can be reached through our website, or by calling 918-272-5381.