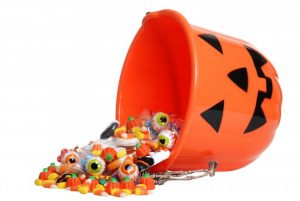 Halloween is often associated with scary costumes, haunted houses and a much higher influx of fun-sized candy bars and sugary treats. That last association is largely the scariest trait of the season, according to dentists. Exposing the mouth to more sugar, especially when snacking, is a sure way to get a new cavity by Thanksgiving.
Thankfully, a dentist is prepared to help you and your family enjoy Halloween and still keep your smile looking sharp by November. Here are five tips to get you started.
Pick and Choose Your Candy
Not all candy is created equal, meaning you don't have to choose the worst candy possible for your teeth just to enjoy Halloween. In fact, the least harmful candy for your teeth is arguably one of the most popular: chocolate. Chocolate is easier to remove from teeth, even without the help of a toothbrush or floss. When eating candy, avoid types that are particularly:
Hard
Sticky
Sour
Gummy
Crunchy
These candies usually get stuck in teeth more easily, stay in the mouth for longer amounts of time, and generally contain more harmful ingredients (especially sour candies which are more acidic.)
Manage Your Diet
If you're going to eat more candy, it's important that your diet is adjusted to reflect this. For example, cut out all beverages that contain sugar (which is important to do regardless of the time of year, but even more important during the holidays.) Instead, make an effort to drink more water, which keeps saliva production high and teeth clean in between brushing and flossing.
Snack Responsibly
Snacking on sweets throughout the day is terrible for teeth because they're most vulnerable in between meals. This is why it's important to only eat candy right after a meal when saliva production is already high. If you must curb your appetite, choose a healthy snack that scrubs teeth, such as apples, carrots or celery. Chew sugar-free gum, which can not only help you reduce cravings but keep the mouth moist.
Practice Oral Hygiene the Right Way
Many people feel obliged to brush and floss immediately after eating a meal or sweets, but this can actually be more harmful than helpful. Sugar has the tendency to soften enamel and brushing can cause you to unintentionally accelerate erosion. After eating candy, make an effort to wait 20 to 30 minutes before starting your routine.
Visit the Dentist for an Exam and Cleaning
After a long month of collecting and eating candy with the kids, you're going to want to make sure that your teeth aren't in bad shape. By visiting a dentist, you can confirm that:
Your at-home care is sufficient
No cavities are present
Non-profit organizations in your area are accepting candy donations
Get a thorough cleaning you can't get at home
Schedule an appointment today to keep your oral health in check!
About the Author
Dr. Jayson Voto earned his dental degree from the University of Oklahoma College of Dentistry. Since then, he's been working hard to educate his patients on the best practices for oral health, provide the most cutting edge dentistry possible, and make sure your smile can make it through the holidays. To learn more tips or about his practice, you can contact him through his website.