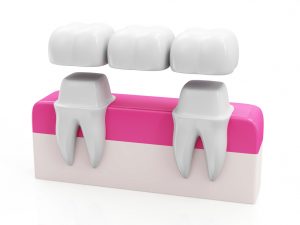 You broke a tooth while enjoying some tortilla chips at a backyard barbeque – it hurts, and doesn't look so great, either. You want to get this addressed, but you're worried that your dentist in Owasso might just want to extract the whole tooth, leaving an unsightly gap in your smile. But when you work with the team at Drake & Voto Family and Cosmetic Dentistry, they offer other solutions – like a dental crown in Owasso or a dental crown-and-bridge combo. In this post, they explain how these restorative treatments can save your smile.
What Are Dental Crowns?
Dr. Jayson Voto and Dr. Hill Trammell explain teach their patients that dental crowns are tooth-shaped "caps" that fit over your existing teeth or a dental implant. They are made of durable, biocompatible porcelain that blends right in with your natural smile.
Crown-and-bridge combos are a way to replace one or multiple teeth, using a crown on surrounding dentitions as the secure foundation. With these, you can add as many pontics – or replacement teeth – as needed to fill in the blank spots in your grin.
What Problems Do Dental Crowns Address?
Crowns and crown-and-bridge combos are the superior treatment option for many dental situations. They're use for:
Protecting a weak tooth from breaking
Holding a broken tooth together
Repairing a tooth that's worn down significantly
Supporting a tooth with a large filling
Correcting discolored or misshapen teeth
Making cosmetic modifications
Covering a tooth that has undergone root canal therapy
Covering a dental implant
Protecting children from tooth decay
What Is The Process Of Getting A Dental Crown?
Having a dental crown placed is a two-step process:
Step One – At the initial visit, we'll examine the area and possibly take X-rays to check on the roots and bones around the area for your crown. Then, we'll numb the area and shape your tooth to prepare it. We will take impressions and send them to a lab that will create your custom, porcelain crown, and then we will affix a temporary crown that you can use in the meantime.
Step Two – Once the lab completes your individualized crown, we will remove the temporary crown and cement the permanent crown in place. At that point, you'll be done, so you can start showing off your smile again.
Will Getting A Dental Crown Hurt?
Not at all – our team will keep you completely comfortable during the entire process of receiving your dental crown. People often expect the worse when facing an unfamiliar dental procedure, but we're always happy to answer your questions to set you at ease. We always take their time and make sure their patients feel entirely educated, and totally at ease while undergoing this treatment.
Now that you know all that a dental crown from Drake & Voto Family and Cosmetic Dentistry can do for your smile, schedule your appointment today – we'll restore your winning smile!