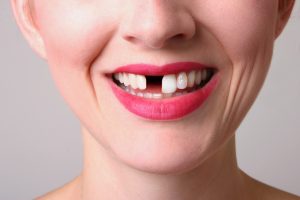 If you are missing a tooth, you are not alone. In fact, more than 178 million people in the United States are missing at least one tooth. Once a tooth is missing, your confidence quickly decreases. However, your self-esteem is not the only area to be impacted by an incomplete smile. Each tooth in your mouth plays an important role in oral functions and oral health. When even one tooth is lost, you will begin to experience significant changes to your quality of life. Not to mention, your facial structures will change over time. As a dentist in Owasso, we encourage you to replace your missing teeth.

Why Replace a Lost Tooth?
Your teeth all work together to allow you to eat and speak correctly, while smiling confidently. When you lose a tooth, your remaining natural teeth lose the support they need to function correctly. Over time, you will begin to experience bone loss. This lack of support will cause your natural teeth to begin to shift from their proper positions. As a result, your oral hygiene will become more difficult, leading to tooth decay and gum disease. Eventually, you will lose additional teeth as more and more bone is lost. Your facial structure will also begin to change due to the loss of bone density.
How Can I Replace Missing Teeth?
Among the most common and affordable ways to replace a lost tooth involves the use of a crown and bridge system. Your cosmetic dentist in Owasso will create a customized crown and bridge device to restore your smile and oral health.
Essentially, a dental bridge is used to bridge the gap from the missing teeth between the natural teeth. Custom-made prosthetic teeth are created, which are anchored in a metal frame work. The frame work is then placed over your adjacent teeth, and held in place by attaching custom-made dental crowns over the teeth.
Advancements in dentistry now allow this form of tooth replacement to look more natural than ever before. While it will not fully function or look like natural teeth, you will regain oral functions to eat and speak with ease. In addition, the replacement teeth will support your remaining natural teeth. Although it will not stop bone loss, the bridge will decrease the rate of progression, allowing you to protect your remaining teeth from damage for longer. You will also provide your facial structures with support so you do not have to worry about facial sagging or deep wrinkles around the mouth developing.
Where Can I Replace My Tooth?
Drake & Voto Family and Cosmetic Dentistry offers the convenient and affordable solutions you need to replace missing teeth. After performing an initial consultation, we will create a customized treatment plan to give you a complete, confident smile. We can replace a single tooth or multiple teeth in a row using a single restoration.
If you are ready to regain control of your oral health, it is time to smile confidently with a bridge and crown. Contact our office to schedule a consultation.