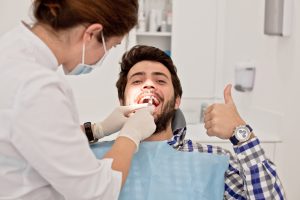 You've recently moved to Owasso, and you're enjoying the beautiful Oklahoma scenery, but as you settle in, you're seeking ways to re-establish your normal life. One area you're looking to address is your oral health. Thus, you desire to find the right dentist in Owasso to provide care. As you read on, you'll learn some simple methods for successfully identifying a dentist you can trust.
The Search Starts with You
The best way to start your search is by identifying your needs and desires. By doing this, you'll know what credentials to look for and the level of experience your new dentist should have.
A Patient Dentist
There's an old axiom that says, "Patience is a virtue." It definitely applies to your search for a dentist because the right professional will take the time to answer your questions and educate you about whatever process you're involved in. Thus, you'll always leave the office feeling empowered.
A Dentist Who Offers Comprehensive Care
By knowing what you're looking for in a dentist, you'll be able to find a professional who can deliver the proper care. Still, a dentist who offers comprehensive care will be able to grow with your needs. For example, as you get older, the condition of your dental health could change. The right professional will be able to accommodate it.
Do the Patients Come First?
At the heart of your dentist's approach to any situation should be a desire to provide the absolute best care. By him or her placing this first on the hierarchy of importance, you can always feel protected.
The Environment
Every aspect of your prospective dentist's office should be clean, whether it's the lobby, bathrooms or treatment areas. This reflects the level of attention that everyone there puts into your care.
Consider the Hours and Location
Finally, don't forget to check the hours of operation and the location of your dentist's office. One of the goals of choosing the right professional is for each visit to be a stress-free experience. So take a look at the business hours and make sure they'll work with your current responsibilities. Then, take a test drive to the office one day to ensure that the commute won't be an issue.
Finding your next dentist should be the beginning of a long-term relationship – one where you feel comfortable to trust your dental care needs to his or her capable hands. Don't hesitate to use what you've learned here to get on the path to excellent oral health.
About the Author
Dr. Jason Voto earned his dental degree from the University of Oklahoma College of Dentistry. Since then, he's remained dedicated to staying on top of the ever-changing world of dentistry by expanding his knowledge through his participation in the Spear Study Club and Oil Capital Study Club. Additionally, Dr. Voto maintains membership in several professional organizations to help him stay abreast of the latest advancements in dentistry. He helps patients enjoy the absolute best in dental health at his private practice and can be reached for more information through his website.