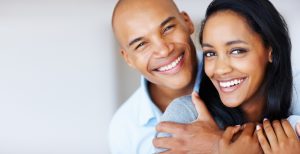 Would you like to feel better, be more confident and look your best? Research from the American Academy of Cosmetic Dentistry says that simply smiling more can improve your mental outlook, your appearance and how other people perceive your personality. So why not investigate all that your cosmetic dentist in Owasso offers? Drs. Voto and Trammell of Drake and Voto Family and Cosmetic Dentistry can show you how to have the healthiest and best-looking smile possible.
Looking Good Starts with Feeling Good
Studies show that people who take care of their oral health are likely to pursue cosmetic smile changes, too. If you want to achieve the brightest smile possible, be vigilant about your daily hygiene routine (brush twice a day and floss once a day) and see Dr. Voto or Dr. Trammell semi-annually for check-ups and cleanings. Your visit with your dentist is a great time to address any aesthetic issues. Are your teeth healthy but gapped, crowded, stained or chipped? Your team at Drake and Voto Family and Cosmetic Dentistry offer many ways to enhance your smile.
Additionally, research published in Psychological Science indicates that smiling broadly lifts your mood and reduces stress. Also, it encourages good interpersonal relationships. If you are really proud of how your teeth and gums look, you are more likely to smile and enjoy the psychosocial benefits that come with it. That's where your cosmetic dentist in Owasso plays an important role.
Cosmetic Services That Enhance the Real You
At Drake and Voto Family and Cosmetic Dentistry, Dr. Voto and Dr. Trammell offer a wide menu of aesthetic services. Used singly or in combination, these treatments help patients of all ages and walks of life smile beautifully and confidently. Here are the details on some of the treatments delivered by this expert team:
Professional teeth whitening Available as an in-office or at-home treatment, professional whitening safely and dramatically improves teeth stained by tobacco, coffee, prescription drugs and more. It's cost-effective and long-lasting, making it one of the most popular cosmetic dental services available today.
Composite resin bonding uses a unique blend of acrylic and glass to fix chips, gaps, pits and other small dental defects. The repair is color-matched, durable and done in one quick visit.
Porcelain veneers These dental laminates disguise the frontside of teeth marred by deep stains, fractures, an odd shape or another obvious defect. They are thin, color-matched and permanently bonded in place.
Traditional orthodontics straighten smiles with overbite, underbite, tooth rotation, tooth tipping, overcrowding and more. Invisalign clear aligners also improve bite and aesthetic issues, but without the awkward appearance of metal wires and brackets. Orthodontic treatment not only changes aesthetics but also yields a healthier that is easier to clean and less prone to gum disease and tooth decay.
Also, did you know that facial cosmetic services such as BOTOX injectables, Juvederm dermal fillers, and Latisse eyelash growth treatments can round out your new look? Ask about them when you have a cosmetic consultation at Drake and Voto Family and Cosmetic Dentistry.
Are You Ready to Look and Feel Great?
If you are, contact Drake and Voto Family and Cosmetic Dentistry for a personal consultation with one of our skilled dentists. You'll learn how great your healthy smile can look, function and feel.