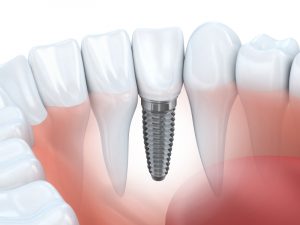 Did you know having just one missing tooth greatly increases your risk of losing even more teeth? Finding a prompt replacement for that gap in your smile is important for maintaining solid oral health for a lifetime to come. Dental implants in Owasso are the only comprehensive option currently available — keep reading to find out more about their multitude of benefits, and whether or not they're right for you, from your dentists at Drake & Voto Family and Cosmetic Dentistry.
Better Oral Health
Bones need plenty of blood flow and stimulation to thrive. When you've lost a tooth, you are also missing its root — the portion that brings strength and nutrients to the jawbone. Dental implants provide a prosthetic root to stabilize the tooth and promote better oral health for a lifetime to come. Other options in tooth replacement, like a fixed bridge or a traditional denture, only give you back the crown, or the visible portion of your tooth. The comprehensive approach of implant dentistry prevents the loss of volume in the jawbone for a more youthful looking, healthier, and longer-lasting smile.
Eat What You Like
People who wear traditional dentures often report having to modify their diets to keep their teeth from slipping around or rubbing blisters in the soft oral tissues. Some foods, like fresh apples or crunchy carrot sticks, may be completely off limits for denture wearers. Fortunately, dental implants provide unsurpassed strength and stability for your new teeth, so you can maintain a balanced, nutritious diet. Feel free to eat what you like, when you like with dental implants!
A Great Financial Investment
Most tooth replacement options will need to be replaced periodically to keep up with the changing shape of the jaw. Getting new dentures can cost hundreds of dollars each time. But because dental implants stabilize the bone, your prosthetic teeth will fit well from day one and for many years to come. In fact, dental implants can be expected to last for a lifetime. So even though they may come at a higher initial cost compared to other options, dental implants usually end up being the best financial investment you could make.
Candidates for Dental Implants
Many adults who are in good oral and overall health whose tooth loss is recent are eligible candidates for dental implants. The only way to know for sure is to visit your implant dentist at Drake & Voto DDS. During an initial consultation, we will evaluate the strength of your jaw and discuss your health history to determine your candidacy for implant dentistry. Diseases affecting the immune system may inhibit your ability to undergo the surgical implantation. In some cases, a bone grafting procedure is necessary to add volume for successful anchoring of the dental implants.
Talk to Us Today!
Are you missing teeth or on the brink of tooth loss? Talk to your dentist in Owasso about dental implants! Contact our office to schedule an appointment today.