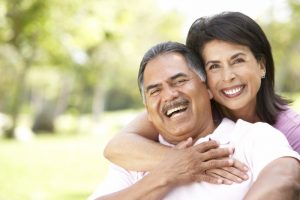 Are missing teeth or uncomfortable dentures keeping you from enjoying your favorite foods at the summer cookout? It may be time for you to consider making the switch to dental implants. If you're looking forward to eating tasty holiday meals and taking pictures during winter family holidays later this year, you should talk to your dentist about dental implants today. Read on to find out why summer is the best time to rebuild your smile with dental implants in Owasso.
Benefits of Dental Implants
While you have many options when it comes to replacing your missing teeth, dental implants stand above the rest. They're the only restoration option that replaces a tooth both above and below the gumline. This provides it with unmatched comfort, durability, and functionality. With dental implants, you can expect:
A beautiful and complete smile to show off in while taking family photos, since dental implants are nearly indistinguishable from natural teeth.
Biting force that is restored by at least 70% so you can enjoy your festive treats and holiday meals easily.
Incredible durability and lifelike comfort that ensures you won't be distracted by them slipping or popping out of place during your everyday life.
Start Regaining Your Smile This Summer with Dental Implants
Since your jawbone will begin to deteriorate as soon as a tooth goes missing, it's better for your health if you don't put off getting dental implants. To replicate your missing tooth's roots, a small titanium post is inserted into your jaw. Through a process called osteointegration, the post will fuse with the surrounding bone to create an immovable foundation. Since this step typically takes several months to complete, summer is the best time to start your journey towards a complete smile.
Soft summer foods like ice cream and mashed potatoes are ideal choices to help your mouth heal. During the recovery period, you'll also be encouraged to rest for a while. What could be better than relaxing around the pool or in the backyard with family? Before you know it, you'll be enjoying a complete, beautiful, and functional smile just in time for the holidays.
Signs of a Good Candidate for Dental Implants
Regardless if you are missing one, several, or all your teeth, dental implants can help. A few signs that dental implants might be right for you include:
Healthy gum tissue and teeth.
Great at-home oral hygiene.
Adequate amount of jawbone density.
If your dentist discovers any issues that may negatively influence the success of your dental implants, they will work with you to overcome them. See them for a consultation right away so you can enjoy your brand-new smile by the end of the year.
About the Author
Dr. Jayson Voto has been following his passion to help people achieve optimal oral health for more than 12 years now. He is dedicated to offering the smiles of Owasso, OK the most advanced dental technologies and techniques, which is why he is an active member of numerous organizations like the American Dental Association and the Oklahoma Dental Society. When creating custom dental implants, he uses a state-of-the-art Vatech CBCT scanner to create a detailed 3D model of your mouth and ensure the perfect position for your new teeth. If you'd like a new smile by fall, feel free to contact him via his website or at (918) 272-5381.