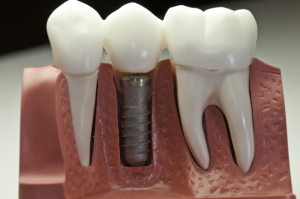 After living with the daily challenges and insecurities of tooth loss, you are ready to invest in your quality of life with a dental implant. While you are excited, you are also a bit apprehensive. The process is a little complex, which can make it seem scary. However, if you head into your procedure well prepared, you will have the peace of mind that you need to relax and enjoy your journey to a complete smile. To start the process with confidence, there are some key terms to know to help you understand the process.

Abutment
An abutment serves an important role as it acts as the connector piece between the implant post and the dental crown. The gum tissue heals around it to create natural-looking results while helping to seal out bacteria.
Arch
Your mouth has two arches. The maxillary dental arch on the top and the mandibular arch on the bottom. They are composed of bone and soft tissues that help to support the teeth.
Bridge
When several teeth are missing in a row, a bridge of prosthetic teeth is created to fill the empty space. Traditional forms use crowns that are put on the adjacent teeth to hold them in place, but when you choose an implant-supported option, dental implant posts are surgically placed into the jawbone.
Crown
Traditionally, when you think of a crown it involves a cap that is placed over a tooth. When referring to dental implants, it is the custom-made prosthetic tooth that is attached to the abutment.
Dental Implant
A dental implant is a tapered post that is surgically placed into the jawbone to replace the tooth root. The body naturally accepts it to offer a secure and sturdy foundation for the prosthetic teeth.
Dentures
Dentures are prosthetics that are used to replace missing teeth. Conventional dentures use an adhesive to hold them in place. When dental implants are used instead, an average of four implant posts anchor them to the jawbone.
Osseointegration
This is the process that occurs when the jawbone fuses to the implant post. The post naturally encourages new bone growth, allowing the jawbone to heal around it.
Resorb
When tooth loss occurs, the underlying bone begins to dissolve or deteriorate, known as resorb. Dental implants help to stop this process.
Restoration
Restoration involves replacing a part of the body. When referring to the procedure, it involves the custom-made dental crown that will replace your tooth.
Get a Complete Smile Today
While starting your journey to a new smile, it is important to speak with your implant dentist about any questions or concerns. By heading into the procedure with confidence, it will ease your worries for a stress-free process.
About Drake & Voto Family and Cosmetic Dentistry
Drake & Voto Family and Cosmetic Dentistry strives to offer optimal dental care to families in the area. In addition to general dentistry, our highly-trained team provides many specialty services, including dental implants. If you are ready to treat your tooth loss, contact us today to schedule a consultation.