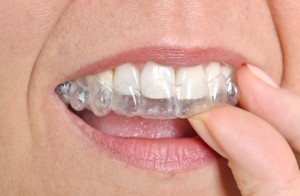 Got questions about your Invisalign treatment in Owasso? We've got answers.
Q: What do I do if I break one of my Invisalign trays?
Dr. Voto: When one of your Invisalign trays becomes damaged in any way (warped, broken, cracked, whatever it may be) contact your dentist immediately. Your Invisalign tray can't work properly if it doesn't fit your teeth like it was designed to do, so a replacement will need to be made. Call as soon as possible to make sure your teeth don't shift back into the wrong position while you wait for your replacement.
Q: Can I take my trays out for my big presentation tomorrow?
Dr. Trammell: As long as you're wearing your tray for 20 to 22 hours each day, you can take them out to eat, clean, do cartwheels, whatever it is you need. So yes, you can take them out for your presentation — just make sure you put them back in immediately after so you can get in the recommended amount of time.
Q: Do I really need the Invisalign Cleaning system?
Dr. Voto: Yes, it's a good idea to purchase the Invisalign Cleaning system. This kit includes special Cleaning Crystals which disinfect your trays and remove plaque in just 15 minutes. If you don't want to get the kit, though, lukewarm water (never hot!) can be used for brushing with regular toothpaste. So no, Invisalign Cleaning is not mandatory, but it's a good idea.
Q: I went out of town and forgot my aligners in my weekend bag. What do I do?
Dr. Trammell: Make a packing checklist next time! Your tray may still fit if you're only away for a short period of time, but you'll probably feel a little discomfort as your teeth readjust to the treatment. If not, contact your dentist immediately to see what you should do. It may be necessary to revisit an earlier tray — another reminder that it's always important to keep your old aligners!
Q: Can I wear Invisalign at happy hour?
Dr. Voto: It's ok to drink alcohol with your Invisalign tray, but because alcohol contains sugars that can damage the plastic (or get caught between the aligner and your vulnerable tooth enamel) it's important for you to remember to clean the tray and your teeth soon after to prevent damage and/or decay.
Q: Who's an Invisalign provider in Owasso?
Dr. Trammell: We are! Contact Drake & Voto Family and Cosmetic Dentistry to schedule an appointment with your dentist in Owasso. We'll discuss your options with orthodontics and determine whether Invisalign is a good option for you. Contact us today!