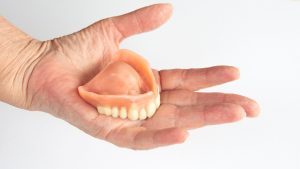 Dentures in Owasso are a popular and economical way to replace missing teeth, but unfortunately, they don't last forever. In fact, they usually need to be replaced every 7 to 10 years. But how can you know when it's time to get a new set of artificial teeth or consider a more long-term solution, like dental implants? Just keep reading to find out! Here are 5 signs you should replace your dentures. 
1. Your Dentures Feel Loose
New, properly fitted dentures stay in place in the mouth through natural suction alone. However, the underlying jawbone can gradually deteriorate over time without stimulation from tooth roots. As your mouth changes, you may find that your dentures feel loose and shift when you eat or speak. Dental adhesive can help, but this is only a temporary solution. You will want to schedule a checkup with your dentist to readjust or, if readjustment doesn't do the trick, replace your dentures. 
2. Your Dentures Are Causing Gum Irritation or Pressure Sores
Wearing dentures can take some getting used to in the beginning. However, once you adjust, your dentures should not irritate your gums. Inflammation, raw spots, or bleeding gums can all be signs that your dentures have grown defective. Pressure sores on the gums are also a sign that dentures may need to be replaced. These sores can develop when ill-fitting dentures apply uneven pressure on the gums when you bite down.
3. You're Having Difficulty Speaking Clearly
Having difficulty speaking clearly can be embarrassing. If you notice that your speech sounds "slushy" or that you are slurring your words, your dentures may be loose. Relining or replacing them should help you regain your ability to speak normally again. 
4. Your Dentures Are Damaged
Over time, your dentures may become fractured due to excess pressure while chewing. Or, you may accidentally drop them. Small chips, cracks, and fractures may be repaired on a case-by-case basis. However, after a significant amount of wear and tear, you will likely need to invest in a new set of dentures or a longer-term solution like dental implants. 
5. Your Teeth Look Discolored
Nobody wants to have a yellow or discolored smile. While new dentures usually look nice and bright, your artificial teeth may gradually become stained over time — especially if you frequently drink coffee, wine, or tea. Practicing proper oral hygiene and limiting consumption of dark foods and drinks can help avoid discoloration. However, if your dentures are already stained after many years of use, you may want to consider replacing them.
Have you noticed any of the 5 signs mentioned above? If so, do not hesitate to schedule a checkup with your dentist to examine your dentures!
About the Author
Dr. Jayson Voto has over a decade of experience helping patients restore their smiles. He provides high-quality, custom dentures in Owasso, including implant dentures, at his conveniently located private practice. To learn more about when to replace your dentures, visit Dr. Voto's website or call (918) 272-5381.