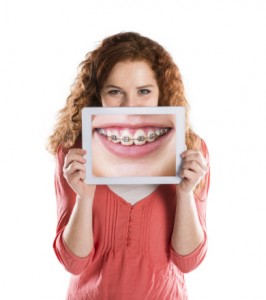 Bad bites need to be corrected; plain and simple. Malocclusion, as it's also referred to, can be corrected using traditional braces. In some cases, teeth may be straight but the upper and lower jaws may not meet properly. These jaw or tooth alignment problems may be inherited or could result from an injury (trauma), early or late tooth loss, or thumbsucking. No matter the factors, it's important that we take care of your bite and get it corrected so you can enjoy a life full of big smiles. Cosmetic dentists, Dr. Drake and Dr. Voto, can help get your bite corrected at our office in Owasso, OK.
Traditional Braces 101
You know if you have an abnormal bite. Everything feels different, including the way you smile. Traditional braces are the most common way to deal with bite issues. Correcting the problem can create a beautiful smile, but more importantly, this type of treatment results in a healthier mouth. Not correcting an abnormal bite could result in a slew of oral health problems you don't want to experience, including:
Tooth decay
Gum disease
Tooth loss
Affected speech and/or chewing
Abnormal wear to tooth enamel
Jaw problems
Traditional braces realign teeth by applying pressure. They usually consist of small brackets cemented to your teeth, connected by wire, which is periodically tightened by our experts to gradually shift your teeth and jaw. The brackets may be metal or tooth colored; it's your choice. In some cases, the brackets are placed behind the teeth. No matter where braces are located on your teeth, you can rest assured that they are straightening and securing your teeth to their proper position.
While you have braces, it's essential to maintain a balanced diet for the long-term health of your teeth. A healthy diet is always important, but eating too many sugary foods with braces can lead to plaque build-up around the brackets that could permanently stain or damage teeth. Our suggestion? Stay away from the following foods:
Popcorn
Corn-on-the-cob
Chewing gum
Whole apples
Nuts
Pretzels
Hard cookies or crackers
Sticky and hard candy
For the best orthodontist Owasso, OK residents can turn to, look no further than the experts at Drake & Voto Family and Cosmetic Dentistry.
Schedule an Appointment
Correct your bite and straighten you teeth using traditional braces. If you have any questions or want to schedule an appointment, speak with our friendly staff today. Dr. Voto and Dr. Drake are the dentists Owasso, OK can turn to when "bad bite" problems persist. We also serve the surrounding communities of Limestone, Valley Park, Verdigris, Collinsville and beyond.