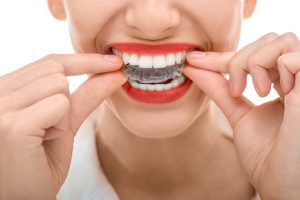 Crooked smiles have more cavities and periodontal disease. Research published in the American Journal of Cardiology shows an increased incidence of cardiovascular disease in people with misaligned teeth.  A straight, healthy smile, crafted by Dr. Jason Voto or Dr. Hill Trammell, happens more quickly and easily than you may have thought possible. And, Invisalign does it in a practically invisible way.
Simply Wonderful Orthodontics
While many older teens and adults wish they had fixed their crooked teeth as children, many older dental patients decide to choose a popular orthodontic treatment in the Owasso area: Invisalign clear aligners. Almost invisible in appearance, comfortable to wear and featuring far shorter treatment times than traditional metal bracket and wire braces, Invisalign clear aligners work well for mild to moderate orthodontic needs, including:
Overbite
Overjet
Underbite
Cross bite
Open bite
Tooth rotation
Gaps
Crowding
Made from BPA-free acrylic, Invisalign appliances are custom-fabricated according to your dentist's treatment plan and three-dimensional images of your mouth. Fitting snugly over the top and bottom arches, the aligners shift teeth gradually  into healthy positions, rendering great looks and excellent bites in just nine to eighteen months. One year is about average for Invisalign. The dentist generally recommends a Vivera retainer to keep teeth in place after treatment is complete.
Invisalign treatment time is shorter than traditional metal bracket and wire braces, clear braces and lingual (tongue-side) appliances, These orthodontic methods may take 18 months to three years and have many disadvantages such as:
Dietary restrictions (no peanuts, celery, pizza crusts, sticky foods)
Complex flossing and brushing routines
"Metal mouth" appearance
Areas of irritation on soft oral tissues
Lengthy adjustments at the dentist's office
The Many Advantages of Invisalign
Invisalign aligners are very smooth, crystal clear and practically unnoticeable. They are completely removable, too, and patients usually wear them 20 to 22 hours per day, taking them out to:
Brush and floss their teeth twice a day and after meals and snacks
Get a hygienic cleaning at Drake & Voto Family and Cosmetic Dentistry
Have photographs taken and for important events such as weddings and professional presentations
Start wearing the next set of Invisalign aligners in the personalized treatment plan
Patients wear 18 to 30 aligner pairs over the course of their treatments and meet with Dr. Jayson Voto  every four to six  weeks for short progress checks and to get new aligner pairs. Invisalign patients spend much less time in the dental chair than they would if they were wearing metal wire and bracket braces.
 Could Invisalign Help Your Smile?
Contact Drake & Voto Family and Cosmetic Dentistry for an orthodontic consultation with our caring and skilled dental staff. The doctor will evaluate the health of your teeth and gums and help you decide if Invisalign is the right choice for you. There's absolutely no pressure–only good information on this innovative orthodontic system.