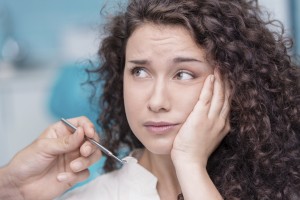 If your tooth aches or you lose a crown, get help fast. Drake & Voto Family and Cosmetic Dentistry provides same day emergency care for Owasso residents.
Even with the best of oral health, accidents happen, and you may need expert same day Owasso emergency dentistry. Owasso area residents trust Drs. Gene Drake and Jayson Voto for outstanding preventive, restorative and cosmetic care, and they are the go-to doctors for pressing dental concerns.
What's a true dental emergency?
Dental emergencies encompass situations such as:
persistent, throbbing tooth or jaw pain
loss of a crown, bridge or other complex restoration
breaking a denture
tooth fracture
tooth avulsion (tooth is knocked out in a fall, auto mishap or sporting event)
jaw fracture
laceration of the tongue, cheek, or gums
dental abscess
Drs. Voto and Drake advise patients call the office right away for advice on immediate care of a dental injury or to set-up a same-day appointment as needed. Also, for life threatening injuries to the mouth or face, they urge quick transport to the nearest emergency room.
What to do before getting to your Owasso dentist
Toothache or abscess. Jaw or tooth pain may be temporarily relieved with over the counter ibuprofen or acetaminophen. A warm compress on the jaw reduces discomfort, too.
Broken or avulsed tooth. Save the pieces of a fractured tooth in a sealed plastic bag or container with a small amount of milk. When a tooth is completely knocked out, rinse it with warm water, but leave any remaining soft tissue in place.
Then, try to put the tooth back in the socket, and hold it in place while travelling to the dental office. If you cannot put the tooth back in yourself, transport it in milk or over the counter tooth preservation product. You might  put the tooth between your cheek and gum while on the way to the Owasso dentist.
Soft tissue lacerations. Contain bleeding with direct pressure as needed. Ice the area to reduce swelling.
Prevent problems
Avoid dental emergencies by wearing a mouthguard when playing sports. Also, avoid chewing foods such as ice, popcorn, taffy and other hard or sticky foods famous for chipping teeth and loosening fillings and crowns.  And, of course, see Drs. Drake and Voto every 6 months for your routine exam and cleaning. In other words, keep your teeth and gums in good shape to prevent dental emergencies.
No injury is too big or too small
The caring team at Drake & Voto Family and Cosmetic Dentistry are just a phone call away for fast advice on your best course of action in a dental emergency. They place a high priority on the health of your teeth and gums and on your peace of mind and comfort.