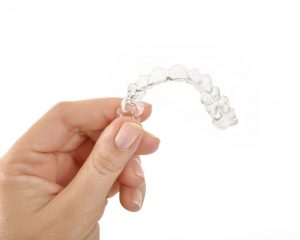 If you could remake your crooked smile without anyone noticing, would you? You can with Invisalign clear acrylic aligners from Owasso dentists, Dr. Jayson Voto and Dr. Hill Tramell. They offer Invisalign as an alternative treatment for teens and adults with mild to moderate orthodontic issues. Besides their discreet appearance, Invisalign aligners have other benefits which make them distinct from traditional metal braces.
What are Invisalign aligners?
Invisalign aligners are BPA-free, customized pairs of orthodontic appliances which straighten teeth without metal brackets, rubber bands or wires. Smooth, comfortable and almost invisible, these appliances move teeth into healthier and better looking positions over an average treatment time of 12 months. Typically, treatment with metal braces or other kinds of traditional orthodontics in Owasso takes two years or more to complete.
Used all over the globe by more than three million patients, Invisalign aligners resemble professional whitening trays. In fact, some patients use their aligners for teeth whitening or as retainers once their orthodontic treatment is complete.
Customized in 18 to 30 pairs, the aligners snap tightly over top and bottom teeth. Your dentist evaluates a prospective Invisalign patient with oral exam, digital X-rays and computerized three-dimensional imaging, He formulates a specific treatment plan if Invisalign appears right for the patient's tooth alignment and overall oral health.
A special Invisalign lab fabricates the clear braces and sends them to Drake & Voto Family and Cosmetic Dentistry. The patient wears the aligners for 20 to 22 hours per day, changing each pair after two weeks or so. As pairs change, the individual sees definite changes in the position of his or her teeth.
Invisalign works well for many kinds of tooth alignment problems, including:
Overjet (protruding front teeth)
Overbite
Underbite
Open bite
Cross bite
Gaps
Crowding
Tooth tipping
Tooth rotation
When treatment is over, many individuals wear customized Vivera retainers from Invisalign, keeping their newly straightened smiles well-aligned permanently.
The Benefits of Invisalign
Besides being practically invisible and quicker than traditional braces, Invisalign aligners:
Are smooth, with no rough edges to abrade soft oral tissues (metal braces often need application of orthodontic wax to protect the inside of the mouth)
Are removable for eating, cleaning, brushing and flossing (complex hygiene routines are common with conventional braces)
Can stay in place or be taken out for pictures and special events, such as weddings
Require no uncomfortable and lengthy adjustments at the dentist's office
Don't restrict your healthy diet the way wire and bracket braces do (you can't eat bagels, celery and other tougher foods with traditional braces)
Busy Invisalign patients see Dr. Voto or Tramell every four to six weeks for progress checks and to receive their next pairs of aligners. For younger patients, Invisalign aligners may be equipped with compliance tabs which show if the aligners are worn for the specified amount of time daily.  Plus, if a teen loses up to six aligners, the dentist replaces them for free.
Who Wouldn't Like to Smile More?
You can smile, and be confident while doing it when you straighten your teeth with Invisalign. Please contact Drake & Voto Family and Cosmetic Dentistry today for an orthodontic consultation.