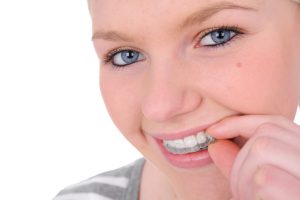 Are you tired of hiding behind a misaligned smile but do not want to deal with metal braces? That is understandable. Traditional braces are very noticeable and restrictive, often causing added insecurities during the duration of the treatment. Now, you can feel confident while straightening your teeth with Invisalign from your dentist in Owasso. Invisalign is a sophisticated and discreet choice that offers exceptional benefits that just are not possible with other orthodontic options. At Drake & Voto Family and Cosmetic Dentistry, we will help you achieve your dream smile using the most preferred solution.

Choose a Clear Choice
Unlike traditional braces, no metal wires or brackets are used. Instead, clear plastic aligners are worn over the teeth to gradually move them into position. The FDA-approved treatment provides high-quality results when used on the ideal candidate while allowing you to smile confidently because they are nearly invisible.
Benefit from a Convenient Solution
When choosing Invisalign in Owasso, you benefit from a comfortable and convenient treatment. After taking digital impressions of your teeth, a series of custom-made aligners are developed. You will wear each one for about 2 weeks for 22 hours per day, only taking them out when eating, drinking, or caring for your teeth. While they are in place, you do not have to worry about any irritation to the inside of the lips or cheeks because they are smooth and offer a custom fit.
During your treatment, you can still enjoy your favorite foods because the aligners are removable. In addition, oral hygiene is a breeze. You do not have to brush and floss around brackets and wires. Instead, just clean your teeth as usual and care for the aligners.
They need to be cleaned before placing them back in your mouth. It is best to use nonabrasive products to prevent scratches from developing, which will cause them to lose their transparency. In addition, do not use any soaps that contain dyes, which can cause staining.
On average, your treatment will take about 12 months. During this time, you will not need appointments for adjustments. However, you will still need to visit our office every few weeks so we can monitor the movement of your teeth. To prevent them from moving back into their previous position, you will need to wear a retainer for a short period of time. At the end of your treatment, you will have a healthy, straight smile.
Start Your Journey to a Straight Smile
When used on the ideal candidate, Invisalign produces the same results as traditional braces. However, they are not right for everyone. Although the aligners can be used to correct several bite and alignment issues, they cannot be used for those who have severely gapped, rotated, or tipped teeth.
If you are ready to stop hiding your teeth, it is time to get a straight smile with Invisalign. Contact our office today to schedule your consultation. We will help you enhance your confidence with a discreet solution.